Knoll
Design
Days
Takes
to
the
Streets
of
Chicago
Bus shelters and banners announce Knoll Design Days 2019, June 10-12
In anticipation of the Knoll Chicago Showroom opening, the Company introduced branded bus shelters and street banners announcing "Knoll Design Days." The new Fulton Market space will display the Knoll constellation of brands – Knoll Office, KnollStudio, DatesWeiser, Spinneybeck | FilzFelt, KnollTextiles and Muuto – that reflect co-founder Florence Knoll's pioneering "total design" perspective, which channeled the power of good design and blurred the lines between workplaces and homes. Spanning three days, Knoll Design Days will debut new products, host the Florence Knoll Women in Design Dialogues and inspire the design community.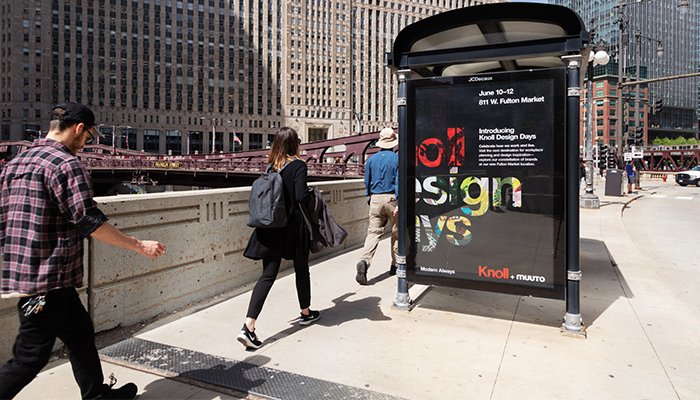 The bus shelters and street banners showcase the distinct graphic identity Knoll Design Days, bringing attention to the new, transformative showroom. "The layered approach for the Knoll Design Days identity plays off of our idea that modern design isn't just a style – it's the belief that the intersection of beauty and rationality yields result," states Knoll Graphic Designer Christina Colombo, "Understanding the nature of how we work and live to create inspiring spaces always starts with a playful spirit."
The new Knoll Chicago Showroom at 811 W. Fulton Market will host Knoll Design Days from June 10 -12, coinciding with the industry's annual trade fair.